COMPIS
Compis bookcase has an essential structure that leans against the wall, leaving a breathing space between the wall and the shelf.
It is composed of uprights and crosspieces in pickled steel tubing produced according to EN 10305-5 / 5, with square section
25x25x1.5 mm, equipped with adjustable feet. With a single height (1915 mm) and a single depth (325 mm), the bookcase can be modular as desired thanks to its two shelf widths (460 mm or 930 mm), which are installed directly on the sides, without the use of tools
Shelves can be:
In metal they are made of pickled steel sheet thickness 15/10 press-folded of first choice type DC01 UNI EN 10130, they are adjustable with a step of 6.5 cm. maximum of 8 shelves for each module.
in 18 mm thick melamine, made of 18 mm thick panels in class E1 (low formaldehyde emission) covered with melamine paper on two sides with scratch-resistant characteristics.
Shelves can be replaced with metal boxes, a flexible product that allows the choice of creating various configurations. Containers can be left open for a greater capacity and equipped with a shelf for dividing the contents or finished with an 18 mm thick melamine door.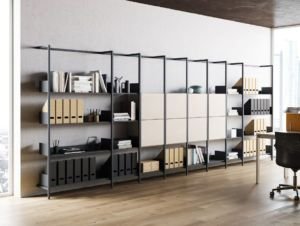 ESSENZA
Essenza is the ideal shelf for essential furnishings. By skilfully combining steel and wood, Essenza combines the strength of a metal shelving with the elegance of wood, allowing for a large and bright display of objects.
Bookcase is made up of pickled tubular steel uprights produced according to the EN 10305-5 / 5 standard, with a round section with a diameter of 40 × 1.5 mm, equipped with adjustable leveling feet. Interlocking system between the uprights and the shelves takes place through pickled steel tubes produced according to the EN 10305-5 / 5 standard with a square section of 15 × 15 mm painted with electrostatic epoxy-polyester resin powders.
Shelves of the Essenza bookcase are made of melamine panels in wood particles with a thickness of 30 mm classified in class E1 due to its low emission of formaldehyde in the environment. Panels are covered with scratch-resistant melamine paper on both sides. Melamine panels are edged around the perimeter with a 2 mm thick ABS edge in the same color as the top surface.
CUBO
Cubo is the new bookcase, which perfectly completes the Arcadia operative lines. It is possible to assemble several bookcases in such a way as to create real equipped walls.
Structure can be requested in three versions:
with 18 mm thick melamine doors with the same finishes as the tops;
with doors in RAL lacquered glass complete with aluminum profile;
per day.
Bookcases have a 14 mm thick back and are fixed with special metal brackets that allow for a very solid structure.
Bookcases can be fitted with internal or external filing cabinets with front panels, always using the same frame and can be completed with a multiple lock (pull-out cylinder) anti-tilt and soft system.
Doors are equipped with "SALICE triple adjustment" hinges which guarantee openings up to 120,000 cycles. Locks with sliding cylinder are mounted. These cylinders allow both to have different ciphers (1500 possible numbers) and the same number. Any lock change takes place by replacing the cylinder only (even when the cabinet is mounted with a simple key supplied).